The Perfect Challenge
2008 GLSS Lake Erie Solo Challenge
If you were to pick the conditions for any of the GLSS challenges you would probably start with a request for 10 to 15 knot winds on the beam. If the rules said the conditions had to change every 12 hours you may then let the winds shift forward to a close hulled tack and throw in a beautiful sunset. On Lake Erie, there's always a few curves in the conditions, but if you can sail the 271NM course at a 6 knot average, you'll understand why everyone was saying great things about the 2nd Annual GLSS Lake Erie Solo Challenge.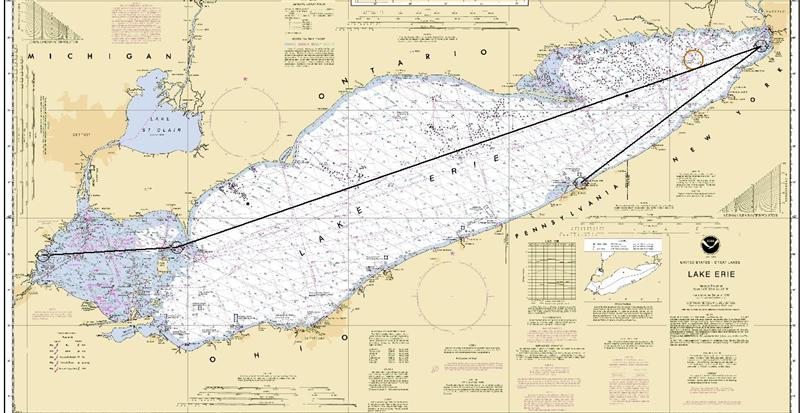 The 271nm LESC Course going the length of Lake Erie before turning Seneca Shoal and finishing in Erie.
After the success of the 2007 Inaugural LESC the decision was made to not change much. North Cape Yacht Club was once again a gracious host for the start with Wally McMinn handling all the arrangements. The GLSS sailors did have to take a second row seat to the Pride of NCYC, Anna Tunnicliffe, who had just won a gold medal at the '08 Summer Olympics. Still, 10 sailors returned from the '07 Challenge and 6 first time GLSS participants were there to meet the challenge. I had a good feeling about the conditions when I set a personal record delivering NICKNACK from Cleveland to NCYC.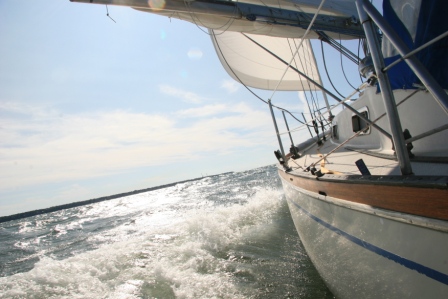 Nicknack surfs in a 20 knot NE breeze before slowing down to arrive at NCYC for sunrise.

Click here for a short movie of her sailing.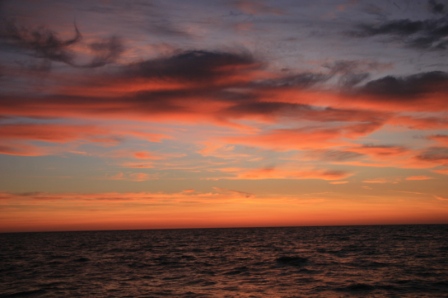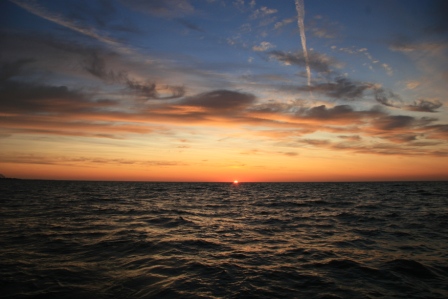 The Erie fleet had arrived the previous weekend and the rest assembled on Thursday and Friday in good sailing conditions. The forecast was for more good wind from the south on Saturday and a cold front arriving Sunday afternoon so spirits were up for a fast sail.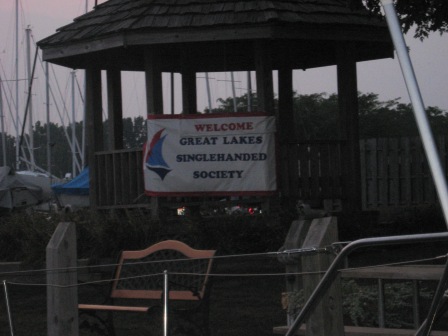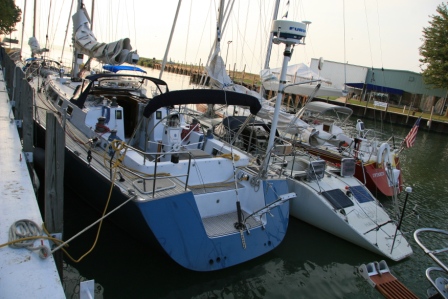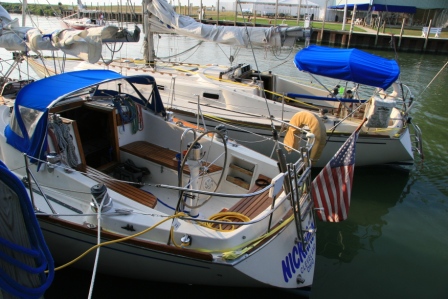 First there was the Skippers Meeting and Banquet with Beef Stroganoff prepared by the McCulloughs and Quinlans and the ice cream bar. Then there was another bar that hosted the normal skipper chat as the skippers unwound. Saturday morning arrived with the promised south winds and coffee and donuts before the 1000 start.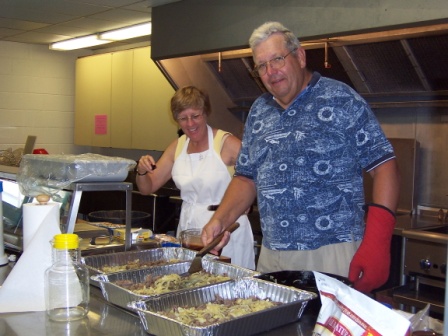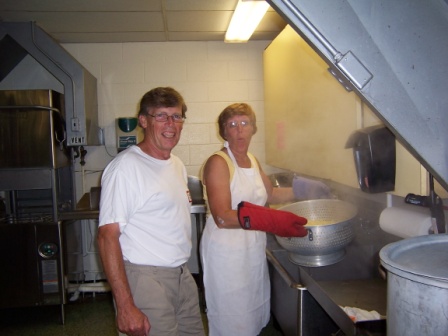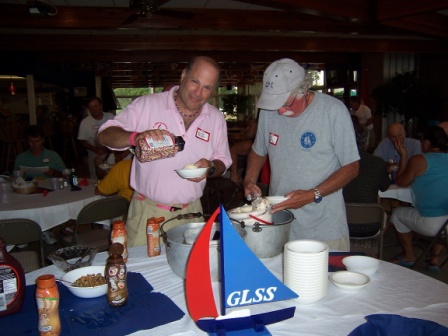 Guess who (wearing pink) was first at the Ice Cream Bar?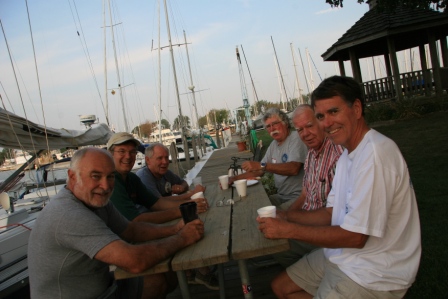 Wally McMinn, John Lubimir, Bill Kruger, Dave Evans, Phil Rubright and Jim Turner
enjoy coffee and donuts at the dockside picnic table.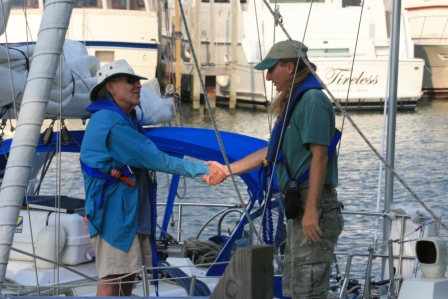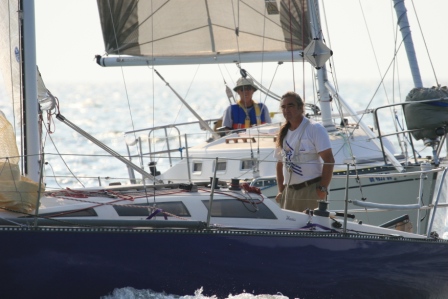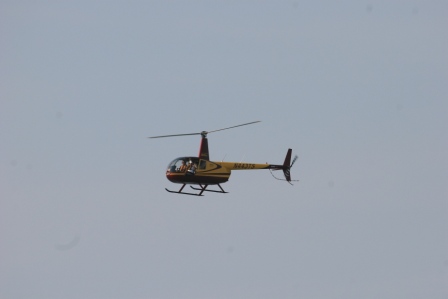 As the boats circled in the starting area, Walt Norris came on the radio with "Smile for the helicopter!" Moments later, there was Walt's son and wife flying over the course taking pictures and enjoying a bird's eye view. Skip McCoullough's starting gun fired at 1000 and the fleet was off with Blair Arden the first boat over the line. It didn't take long for Walt Norris to get his spinnaker flying and lead the fleet on a beam reach towards Pelee Passage.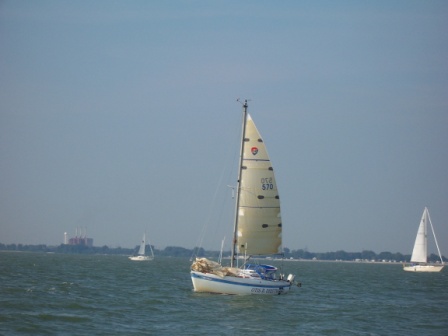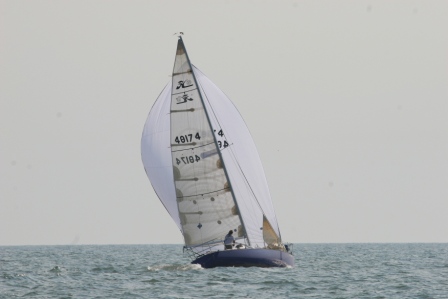 Meanwhile, Lease Shock was busy loosing his spinnaker and genoa halyards, forcing him to pull out the ATN Top Climber and go up the mast and re-reave them and finally come back down and get up to speed.

The fleet is on the way with the chopper flying over and yes, that's Lease (left center) going up the mast!
While Walt opened up a challenging downwind lead, John Lubimir and Dave Evans had their prayers answered with a wind shift up on the nose. John and Dave let their waterline length work upwind and made up ground on Walt for several hours. The middle of the fleet stayed close together and I remember counting the lights of 9 other boats during the night. At the 0200 radio check-in the boats were bobbing as the wind took a break. Even Walt Norris admitted to looking for wind, but he must have found it first because he was gone at the 0800 check-in. The winds filled in for the middle of the fleet to make for a nice night sail and steady progress towards Long Point while counting the freighters.
Sunday morning arose with a continuing breeze and after 24 hours Nicknack, in the middle of the fleet, had covered over 120nm. Walt Norris had 180nm accounted for with a healthy lead. The fleet spread out in Lake Erie's East End setting up angles for the Seneca Buoy and the approaching cold front. About 1500 a line of storms moved through the fleet but the winds that followed were light and as confused as the seas. Finally around 2000 the NW winds filled in with gusts to 20 knots and it was a drag race to Buffalo for most of the fleet. Ratso and Solo Fide continued their seesaw battle of lead changes as they rounded Seneca Buoy and Walt Norris was approaching the finish at Erie.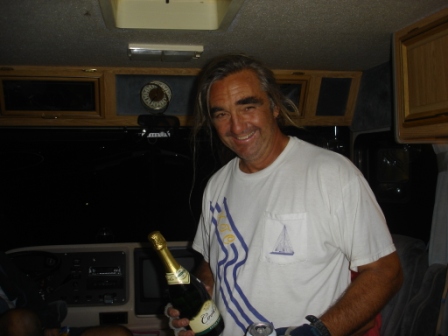 Walt Norris collects his finishing bottle on Sunday evening.
Everyone was enjoying good reaching conditions to and from Buffalo. John Ollila was next to round at 2308 followed by Bill Kruger and Bill Tucker. Wally McMinn was enjoying a great challenge on Odyssey with his new roller furling main finally tweaked and working to perfection. David Amatangelo chased Brad Enterline and an hour behind them Nicknack rounded with Greg Gorny on Serendipity just boat lengths behind and Lease Shock on Phoenix charging in less than a minute behind from a slightly different angle. The winds held perfect throughout the night and the entire fleet was around Buffalo by early morning.
Walt Norris set another course record of 35:34:23 while John Lubimir snuck past Dave Evans as the two finished around sunrise on Monday. Bill Kruger and John Ollila played tag with Bill finishing 9 minutes ahead of John at 0911. The rest of the fleet was sailing to a NE shift with winds building to over 20 knots for some great surfing on some sizeable waves.
I don't know how many Tartan 37 owners will believe this picture but I guess I did have at least one pretty good surf on
Nicknack
.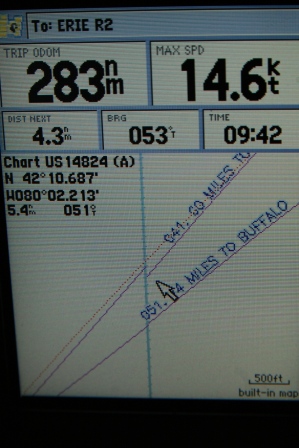 Amatangelo continued to push Enterline back to their home port but could never catch Brad. First timer Jim Turner in Carina moved up in the fleet while Lease Shock battled with Greg Gorny boat for boat (same PHRF rating) to the finish and with a mile to go launched his spinnaker to finish a 1:47 ahead. The rest of the fleet rolled in during the afternoon including first time finisher Doug Radabaugh for 3rd in the Michigan division. As dusk fell Randy Handley crossed the line bettering his 2007 time by over 60 hours. Marty Fox was close behind and even though he disqualified himself using his engine to get off a reef at Middle Sister Island, finished the course.


New records were set in every division and everyone had a day to unwind on Tuesday (as whitecaps blew across Presque Isle Bay) before the awards luncheon on Wednesday. The Finish Committee lead by Tom Munson even had fun as their work was fast with all boats finishing less than 24 hours apart, including Yuk Fu II. It made their small battle with the automatic sprinkling system and winds blowing down their tents just a side story to a great overall event.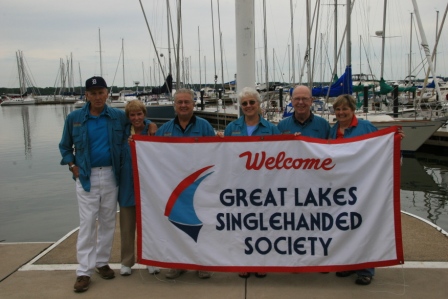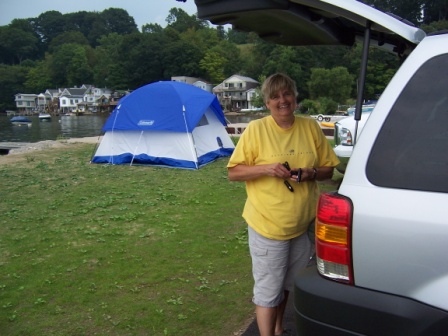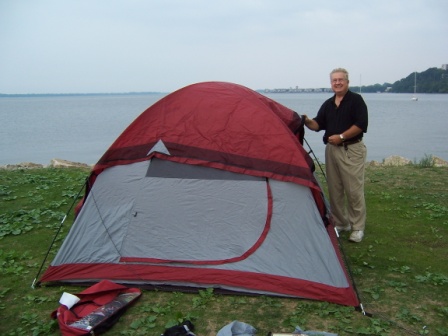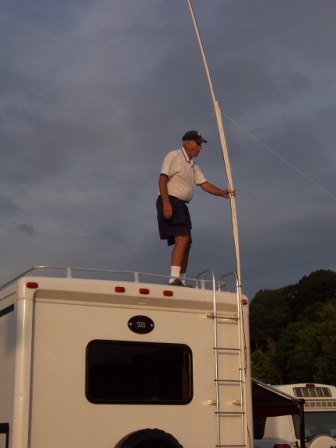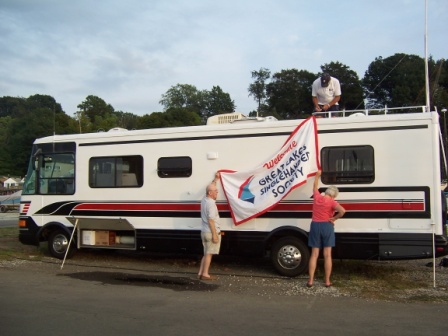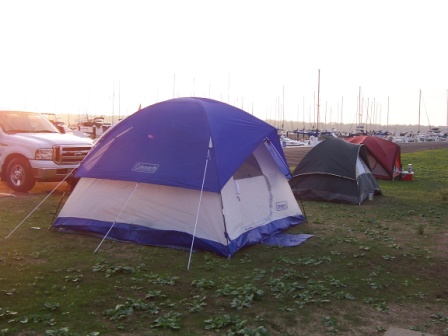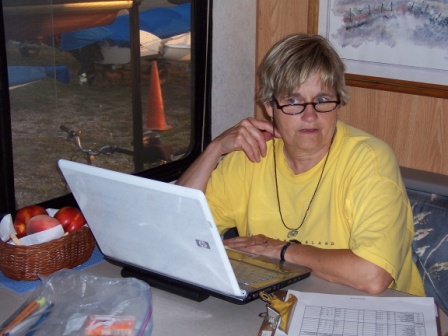 A salute too the Finish Committee for their great work.
Wednesday at the Awards Luncheon new GLSS Members Greg Gorny, Brad Enterline, Dave Amatangelo, Jim Turner and Doug Radabaugh were presented their GLSS Burgees. Marty Fox who withdrew after running aground and using his engine off Middle Sister Island, and then went on to sail the course was presented a Lake Erie chart signed by all the skippers. We welcome the new members all of whom have great stories of preparing for and competing for the first time.
The President's award for best overall finish by a first time participant on corrected time went to Brad Enterline from Erie YC sailing a Tartan 34 classic. Constant pressure was kept on Brad by fellow EYC sailor Dave Amatangelo in his Tartan 33, but Brad would not be passed. Brad would finish 3rd in class behind John Ollila and Bill Tucker, but the Ontario Division was by far the most competitive on corrected time (I know Blair, we don't have overall awards!).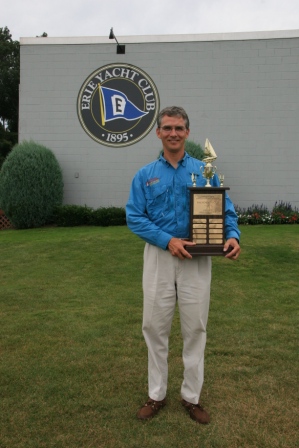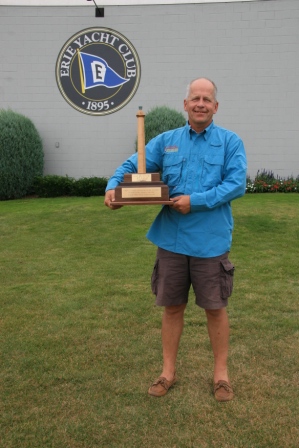 Brad Enterline (left) with the Predisent's Award and Greg Gorny (right) with the Commodore Perry Award
Greg Gorny was presented the Commodore Perry Award for his work and dedication during the last 2 years to organizing the Erie YC end of the LESC. He also sailed a great challenge finishing second in the Erie Division by less than 2 minutes to Lease Shock.
Special awards were presented to participants including the Jack Rabbit award to Walt Norris who bettered his course record from 2007. Lease Shock was presented the Deck Ape Award for his halyard retrieval at the start. The No Dose awards went to John Ollila and Bill Kruger who kept passing each other, and yes, it was always the napping skipper who passed the wide awake skipper. Lease Shock, Paul Nickerson and Greg Gorny were presented the 3 Musketeer Awards (yep candy bars) for their rounding at Seneca Shoal Buoy nearly overlapped. Wally McMinn was presented a special appreciation award for his efforts as an original organizer and continued leader in the NCYC hosting of the LESC. Wally and his wife Ann really appreciated his disco lights when they arrived at Leamington for the NCYC Labor Day Cruise and his record still stands of 22 people in the cockpit for cocktails.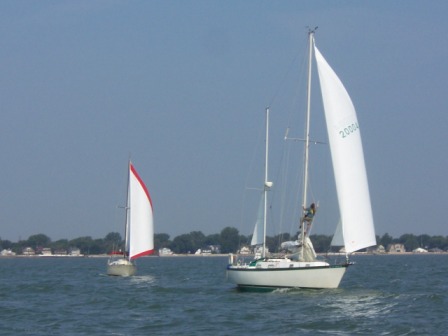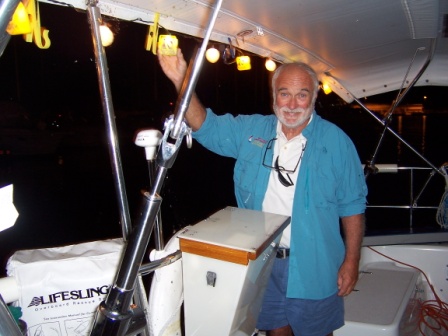 Lease Shock shows his Gorilla Power. Wally McMinn invites everyone to cocktails at dusk on
Odyssey
.
Finally, you can't say enough thanks to both North Cape YC and Erie YC for their accepting a bunch of crazy sailors and their great facilities and members for all their help. Plans are to sail the same course for the 2009 LESC starting August 29th at NCYC. Most skippers agree there is no need for long johns in August but otherwise Lake Erie holds it's own as a challenging Great Lake.
You could not have asked any more for a GLSS Challenge; every point of sail and every possible conditon was thrown at the boats (and of course some flies) and the sailors had plenty of time to spend with each other. Make your plans now for 2009!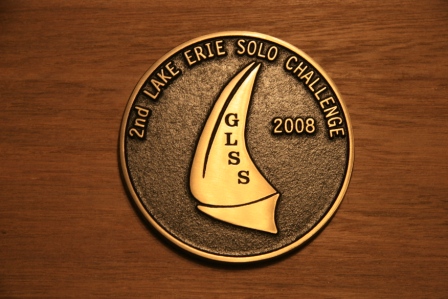 Now relax and enjoy a video dedicated to all those who worked and participated in the 2008 GLSS Lake Erie Solo Challenge. It's 27MB and will take several minutes to load with a broadband connection. You can also right click on this and choose "save target as" to save a copy of the file.